During this summer's Gromit Unleashed 2 trail, UoB research dietitians in the NIHR Bristol Biomedical Research Centre, Nutrition theme have teamed up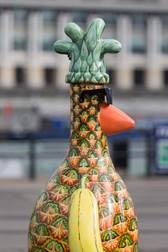 with The Grand Appeal and created a mini healthy living quiz!
The 2-minute quiz is available to complete here and will also pop up on the Detect-O-Gromit app when you reach the healthy eating hero sculpture 'Banana-arm-a' on North Street.
More information about the trail can be found here: www.gromitunleashed.org.uk
We plan to publish anonymised, overall results of the data collected about healthy living knowledge.