Online methods for obtaining consent and taking part in research remotely could make research more inclusive for autistic people, according to a study published in Autism in Adulthood.
Researchers from Bristol's BRC wanted to explore how the first six months of the COVID-19 pandemic affected autistic people. The study team was especially interested in whether lockdown experiences would affect people's willingness to participate in research.
Between March and July 2020, the study team interviewed 31 autistic adults. They found that, during the first COVID-19 lockdown, study participants felt less anxious and were able to enjoy the quieter pace of life enforced by restrictions. However, participants also found it challenging to adjust when their daily routines had to change.
Findings from the study suggest that interviewees saw research participation and engagement as increasingly relevant during the pandemic. They welcomed efforts to conduct research using online methods of communication and valued the increasing use of technology.
The study team identified that the wider use of remote technology has the potential to make research more inclusive and participatory. Obtaining consent online or allowing remote participation in research could lead to improved access for autistic people.
Dr Alba Realpe, lead author, said:
"Interviewees were concerned by inconsistent public health communication during the transition out of lockdown.

"The unnecessary stress associated with this may have led to worsening of mental health issues in some people.

"Healthcare providers and researchers need to be mindful of rising mental health issues in the aftermath of the pandemic, especially for people who were already vulnerable."
Dr Nicola Mills, co-author of the paper, said:
"We learnt that autistic people welcome and value the use of online technology to reach study participants.

"The response to the pandemic may have offered opportunities for innovation in research processes enabling more autistic people to engage with research and making studies more inclusive."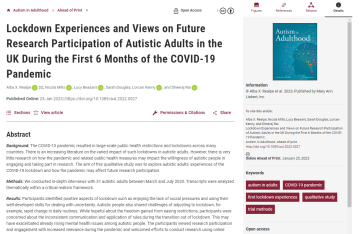 Lockdown Experiences and Views on Future Research Participation of Autistic Adults in the UK During the First 6 Months of the COVID-19 Pandemic