Nearly 800,000 people die by suicide each year – that's more deaths than due to HIV, malaria, or war. Effective methods for preventing suicide exist but they are not being implemented. We need to ask why.
Suicide and self-harm are important public health issues the world over. Suicide remains a leading cause of death among 15-29 years-olds and the greatest burden of suicide deaths is experienced in low- and middle-income countries. There is a large body of evidence on policies and interventions that can be used to build and implement suicide prevention agendas in different contexts. Restriction of access to highly lethal methods of suicide is a key pillar of such an agenda as many acts of self-harm would not lead to death if such lethal methods were not available.
There are likely many factors that shape suicide prevention policies, and these will differ from place to place but it is important that we consider influences and actors that have not received enough attention to date. One important example is the role of commercial interests which often conflict with the aims of effective policies that are needed to prevent suicide.
We know certain industries and corporations impact on health through the products they design, produce, and promote. They often manage to influence research and policymaking at international, national and local levels in ways that make it easier for them to promote their business interests, sometimes at the expense of public health. These practices are now widely referred to as the commercial determinants of health (CDoH).
Much of the evidence regarding CDoH focuses on the products and practices of particular industries or companies. the tobacco, alcohol, fossil fuels and ultra-processed food and beverage industries are listed as usual suspects. Yet, the CDoH perspective hasn't historically been applied to the issue of preventing suicide and self-harm.
Questions need to be asked: how do the products and practices of commercial actors potentially undermine the adoption and implementation of what we know is needed to prevent suicide? How do the CDoH influence the research that helps us understand what drives suicide and how to prevent it? How do the CDoH influence policymaking in ways that block, delay or weaken policies that effect our ability to prevent suicide?
Dr Duleeka Knipe and I recently led a team of researchers, with expertise in the fields of suicide prevention and CDoH, in the development of a conceptual framework for applying a CDoH lens to the public health issue of suicide and self-harm prevention. We developed a framework made up of five interrelated domains:
Products – we know that using some products, such as alcohol or gambling, is a known risk factor for suicide. Other commercial products can be used to commit suicide. Despite this, commercial entities profit from the sale of such products.
Marketing strategies – commercial entities use these to promote sometimes addictive or lethal products to maximize profits.
Science influence and the creation of doubt – commercial actors seek to influence science and the use of science in ways that can foster doubt about the risk of harms of a product and delay regulation.
Policy influence – health-harming industries influence the policymaking process in ways that further their interests at the cost of public health goals.
System influence – practices of commercial actors and their affiliates, such as think tanks, can undermine the structures and services that form the core pillars of the types of safety nets that protect against suicide and self-harm.
We hope that bringing all these domains together into one framework will help others to promote and protect the implementation of effective suicide prevention strategies. We also hope that it will allow us to continue building research on how the CDoH function to undermine such an agenda. To help take this work forward our paper outlines a set of recommended actions that different actors, including researchers, advocates, policymakers and practitioners can undertake:
Ways to promote and build a suicide prevention agenda
Research
Research the commercial determinants of suicide, including mapping diverse corporate market and political strategies using a range of data and methods, and how these influence and undermine suicide and self-harm prevention strategies and interventions.
Evaluate the impacts of policies to address the commercial determinants of health and how such policies can inform suicide prevention agendas.
Build research expertise on the commercial determinants of suicide and how to effectively address their impacts across diverse resource settings.
Build the evidence base on whether and how to engage with industry and industry-funded organisations without compromising public benefit and the integrity of scientific and policymaking processes.
Academic institutions, journals, health agencies and international organisations need to strengthen policies to protect the scientific process (from funding and agenda-setting to publication and dissemination) from manipulation by industries, including strengthening the management and reporting of conflicts of interest.
Advocacy
Promote an agenda that raises awareness of and counters corporate influence on science, policymaking and public understanding and debate, and that supports evidence-based, comprehensive suicide prevention agendas.
Promote greater understanding among the public, the media, policymakers and research and educational communities of the commercial determinants of health, and of corporate influence on suicide risk and prevention agendas.
Build support for policies and governance structures at the national and international level that are required to counter corporate influence on suicide prevention agendas.
Policymaking
Explicitly address the commercial determinants and manage conflicts of interest in international, national, and local suicide policymaking.
Promote policies that prioritise evidence-informed prevention-oriented interventions that may challenge industry interests and that protect the policymaking process from undue industry influence.
Practice
Support and implement evidence-informed strategies to prevent suicide, recognising how evidence and initiatives may be distorted or appropriated by commercial interests.
Adopt robust governance policies to protect suicide prevention policies and other interventions from undue corporate interference
The research paper discussed in this blog was originally published in The Lancet Psychiatry: Conceptualising the commercial determinants of suicide: broadening the lens on suicide and self-harm prevention van Schalkwyk, May C I et al. The Lancet Psychiatry, Volume 10, Issue 5, 363 – 370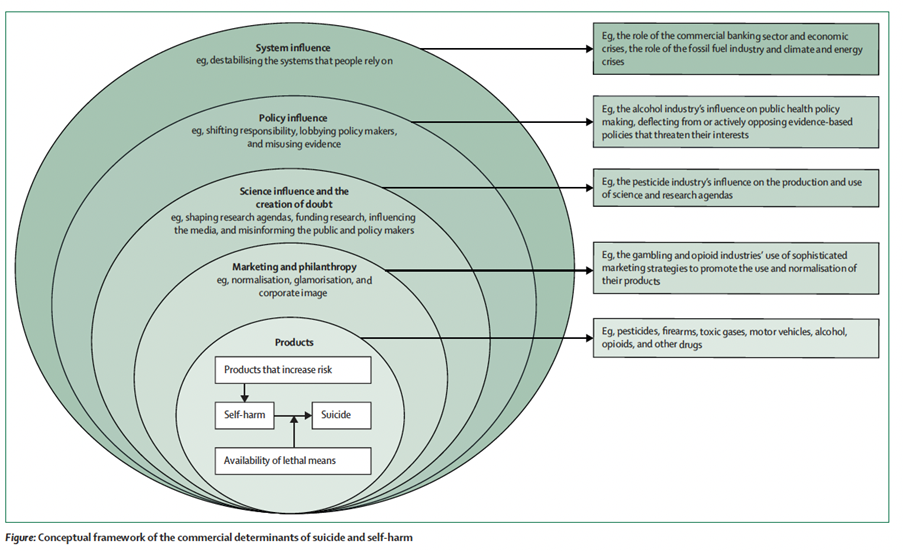 Links and downloads
Download the author approved manuscript here