Prioritising which patients should undergo surgery when demand exceeded capacity was incredibly challenging for surgeons during the pandemic, a study part-funded by the Bristol BRC has found. During the CONSIDER-19 study, researchers interviewed healthcare professionals to investigate their experiences of prioritising patients for surgery, while the national guidance designed to support their decisions changed frequently.
The start of the COVID-19 pandemic meant that elective surgeries had to be postponed. This was because a lot of critically ill patients needed urgent hospital care. The NHS recommended that non-urgent surgeries should be postponed for at least three months. It also provided guidance on how patients should be prioritised based on procedure and cancer types.
According to these guidelines, most colorectal cancer surgeries could be delayed by 10-12 weeks or longer. The research team decided to focus on this type of surgery as a case study to explore how decisions were made in practice, while resources were particularly constrained.
Researchers interviewed 27 healthcare professionals between June and November 2020, including surgeons and specialist nurses. They wanted to find out what strategies these healthcare professionals adopted to manage the imbalance of demand and resource.
Healthcare staff reported that services were disrupted at the start of the pandemic and expressed mixed views about the value of national guidance. They also discussed strategies they'd developed to manage the impact of COVID-19 on their practice.
To continue providing elective cancer surgery, surgical teams used the following strategies:
Relocated surgical services
Prioritised patients within and across surgical specialities
Adapted patient treatment plans
Changed the working practices of surgical teams
Despite national guidance, healthcare professionals found it challenging to prioritise which patients should receive surgery. The decision-making process was complex and filled with practical and emotional strains.
Dr Carmel Conefrey, lead author, said:
"Our study shows that when capacity exceeded demand surgical teams were asked to make some very difficult decisions. Frontline workers experienced both emotional and moral discomfort as a result of this.

"For national guidance to support decision making, it needs to be streamlined and unambiguous."
Dr Leila Rooshenas, co-chief investigator, said:
"Prioritisation of patients has always been necessary, but decision-making is not always explicit, and often happens before patients are referred for surgery.

"The COVID-19 pandemic has brought some of the tensions and difficulties surrounding these decisions into sharp focus amongst a wider array of healthcare professionals.

"Our findings show a need for more structural and ethical guidance and training to support surgeons in prioritisation decisions, and the communication of those decisions with patients and their families"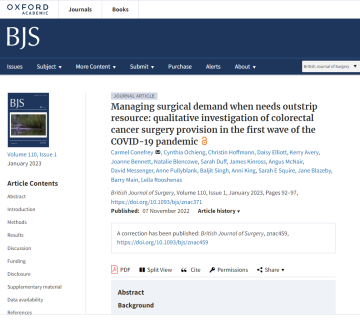 Managing surgical demand when needs outstrip resource: qualitative investigation of colorectal cancer surgery provision in the first wave of the COVID-19 pandemic