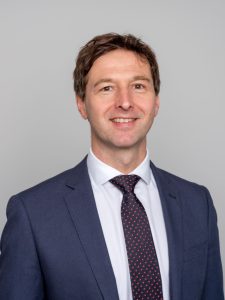 Dr Guido Pieles, Honorary Senior Clinical Lecturer and Consultant in Congenital Cardiology at the Bristol Heart Institute and Bristol Congenital Heart Centre, has just returned from  the IAAF World Athletics Championships Doha 2019.
Tell me about your role at the World Athletics Championships.
I've been part of the local host medical team organised by the Qatari organising committee. It was an international, world-class team led by experienced sport medicine physicians, who have organised athletics and Olympic events previously. There were people with expertise in marathon events (for example, the Boston Marathon's chief medical officer), sports scientists who specialise in heat stress and two sports cardiologists, one of whom was me.
What did you have to do?
I was co-responsible for the finish line of the long distance events, coordinating a team of paramedics and volunteers at the finish line of an event. I was the first to assess the athletes at the finish, so I needed to give initial treatment if required and triage the athletes. Most of them were fine, but some needed attention in our medical tent.
In Doha, we've been responsible for the finish line medical care for athletes competing in the long distance events. These didn't take place in the air-conditioned stadium but out on the road when, even at night, it was still 32 degrees celsius and more than 70 per cent humidity.
There's been a lot of media coverage about the challenging conditions. How did the heat in Doha affect the athletes?
It's not only because of the heat, but because humidity higher than 75 per cent makes it almost impossible for athletes to regulate their temperature effectively via the skin.
It was widely reported that 28 out of 68 female runners did not finish the marathon. I was at the finish line at the women's marathon and we needed to treat and observe some of the athletes in our medical tent, which is equipped with temperature adjusted cooling bath tubs and other state of the art equipment. However, contrary to reports in the media, none of the runners had a serious heatstroke, circulatory or respiratory collapse or loss of consciousness, and none required hospital treatment.
So, while some of the criticism as to whether running the competitions in these conditions is valid, the medical service at the event was exceptional and safe.
How did you get involved?
I am part of the international sports cardiology/medicine community, through my talks and publications, by teaching at international conferences and via my role as English Football Association expert group sports cardiologist.
Our research group, led by myself and Professors Graham Stuart and Craig Williams at the University of Exeter, also runs a sports cardiology cardiac imaging project. Aspire – the Qatari national athlete academy – are involved in this project, so last year I was approached about working at the World Championships.
What's the link with your research expertise?
My research is about developing innovative imaging methods to monitor cardiac performance in elite athletes and young people with inherited heart disease, and the development of care for the paediatric and adult athletes. I'm particularly interested in how the heart behaves under exercise stress, not only in athletes, but also in patients with congenital heart disease. I'm running a project in exercise assessment as an outcome predictor in congenital heart disease with Professor Massimo Caputo at the Bristol Biomedical Research Centre.
What was the most memorable moment of the World Championships for you?
Definitely the conversations I have had with the athletes after the races. What struck me was their sportsmanship, their very strong, focused personalities, and also their composure and openness. My hero was Spanish 50km walker Jesus Angel Garcia – at 49 years old, he was the oldest competitor at these World Championships. He made the top 10 in extreme conditions, because of his race planning and experience, and also his great willpower. He smiled when I called him 'Abuelo' (granddad) after the race