Flash glucose monitoring might help young people improve control of their diabetes, according to a study published in the BMJ Open Diabetes and Care.
Researchers in the South-West of England found some indication that flash monitoring with the first-generation FreeStyle Libre® sensor might offer an alternative to finger-prick testing for younger patients who need to track their blood glucose (sugar) levels. The study team also found that the higher NHS costs associated with flash monitoring could be explained by the cost of the sensors.
Flash monitoring uses a sensor placed on the back of a user's arm to monitor blood glucose levels through a mobile app. There is growing evidence that this type of monitoring is useful in helping adults achieve good glucose control. Evidence for how well this method works in children and young people is more limited.
Researchers supported by the Bristol Biomedical Research Centre (Bristol BRC) wanted to explore the effects of flash monitoring on:
Blood glucose management
Use of secondary health care resources
Associated costs of secondary care
They looked at patients from four paediatric diabetes clinics in the South-West of England and collected data on children who started flash monitoring at any time between April 2109 and June 2020.
The study team did not see a clinically significant decrease in glycated haemoglobin levels to reflect improved diabetes control. They also found no evidence of a difference in average blood glucose levels. Overall rates of diabetes-related complications were low across patients using both monitoring methods.
In terms of costs to the NHS, the increased cost of the flash sensor was not counterbalanced by the lower cost of test strips used by younger patients who finger-prick tested.
Rebecca Kandiyali, Associate Professor in Health Economics at Warwick Medical School, and lead author, said:
"Our real-world study using routine data provides further indication that flash monitoring might help young people improve the control of their diabetes while also providing new evidence on the resource use implications within the NHS. As this study took place during the COVID-19 pandemic, we acknowledge that our findings were unavoidably impacted by national lockdowns.

"We also understand that new flash monitors with alarms will likely have a different clinical and cost profile. This is especially true given the reduction in emphasis on checking true blood glucose levels before estimating insulin dosages for meals, which was standard policy for the first-generation Libre sensors at the time of our study."
Julian Hamilton-Shield, Professor in Diabetes and Metabolic Endocrinology at Bristol Medical School, said:
"The pace of improvement in device technology for people living with diabetes is rapid and the benefits to patient well-being are obvious, with the third generation of Libre sensors already being available, for instance.

"The cost-effectiveness of devices will improve rapidly with far less need for finger prick testing and by reducing the burden of long-term complications of poorly controlled type 1 diabetes."
This work is part of the FLASH study.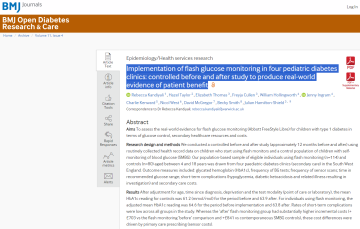 Implementation of flash glucose monitoring in four pediatric diabetes clinics: controlled before and after study to produce real-world evidence of patient benefit