A lack of research and agreement between professionals contributes to inconsistent dietary advice and potentially inadequate support for people living with an ileostomy, according to a study conducted by researchers from the NIHR Bristol BRC published in The Journal of Human and Nutrition Dietetics.
An ileostomy is a surgical procedure usually performed when a patient needs to have their large bowel removed or rested after surgery. It can be temporary or permanent and involves the end of the small bowel being brought through an opening made in the abdomen to form a stoma.
People with an ileostomy are more likely to develop diet-related problems because the surgery changes how their digestive system functions. The potential complications associated with dietary choices, such as high stoma output and dehydration or blockages, can be concerning.
A previous scoping review carried out by the study team established that research findings were insufficient and often inconclusive, which could lead to contradictory advice being given. During the current study, researchers interviewed healthcare professionals providing dietary advice to patients with an ileostomy. The team wanted to explore experiences, beliefs and attitudes held by healthcare professionals to find out how these affected the advice they provided and their effectiveness at managing patients' needs.
An analysis of these interviews demonstrated that many healthcare professionals believed dietary management needed to fit with a patient's lifestyle. However, healthcare professionals lacked confidence and clarity in the dietary advice they provided because they were unable to back it up with consistent research evidence or guidelines.
Findings confirmed that healthcare professionals were also aware of some of the issues identified in another study, during which patients were asked to complete an online survey. The survey focused on where patients had received dietary advice from and whether their need for advice and support around diet was being met.
Survey results found that patients with an ileostomy got advice from various sources such as healthcare professionals and institutions, charities and support groups or stoma care companies. This variety had the potential to cause anxiety and could limit what patients understood about the changes they needed to make.
Dr Alexandra Mitchell, lead author, said:
"During the peri-operative period, patients receive a large and potentially overwhelming amount of information from various healthcare professionals. The information they are given should be tailored to their capacity to engage with it at a potentially stressful time. Follow-up should also be provided to expand on, clarify or reinforce advice.

"We found that profession was a strong determinator of what and how dietary advice was provided. It seems that closer collaboration between the different healthcare professionals caring for people with an ileostomy has the potential to reduce mixed messages and improve patient experience and outcomes.

"Due to individual differences between patients, experiential learning with diet is key to self-management and is encouraged in a controlled way by healthcare professionals. However, a lack of 'one size fits all' guidance can be difficult for some."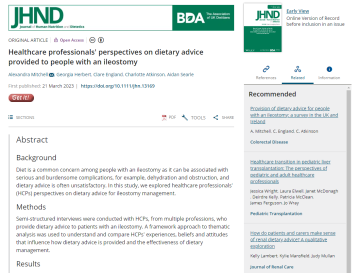 Healthcare professionals' perspectives on dietary advice provided to people with an ileostomy