Bristol BRC researchers have developed and tested a method for patients to take and submit wound images after surgery so they can be assessed remotely for wound infection. Patients were able to successfully produce high-quality images after the study team provided them with instructions on how to take and transmit them.
Surgical site infections (SSI) are one of the most common adverse events after surgery. Assessing potential SSIs can be difficult when patients only stay in hospital for short periods of time. This is because SSIs often develop after a patient has been discharged.
The study team drafted step-by-step instructions for patients on how to take photos with smartphones or mobile devices. They used plain language and made sure that the instructions met clinical and practical requirements for photographing wounds. Researchers initially tested and revised the instructions and image submission process by conducting in-person interviews with 16 patients who'd recently undergone surgery. This was followed by remote testing with another 89 patients who had been discharged from hospital.
Trained healthcare professionals usually assess wounds in person to see if an SSI has developed. This can be expensive and resource intensive. The study team wanted to find out whether this type of assessment could be carried out remotely with the help of digital technology.
During the study most participants reported that taking a clear picture of their wound was quick and easy. Some experienced difficulties either with taking or sending images but, of those the study team could contact, only four were unable to either take or submit an image at all. Three clinicians then looked at all the submitted images. All three agreed that nearly three-quarters (75 out of 102) of the images were of high enough quality to be used for potentially assessing SSIs.
Dr Rhiannon Macefield, lead author said:
"Attending face-to-face appointments for wound assessment after surgery may be difficult for patients if they need to travel or take time off work, or if they have mobility or health issues.

"Our study has demonstrated that patient-generated, standardised images of adequate quality can be obtained using our written instructions without the need for prior training.

"The use of digital images for remote SSI assessment could be beneficial for routine follow-up after surgery. It could also be used for SSI surveillance and as a method for outcome assessment in research studies, potentially reducing costs and burden for patients and healthcare staff.

"Such methods may also have advantages for facilitating early detection of SSI and prevent minor problems developing into major ones."
Dr Kerry Avery, co-author of the paper, said:
"We're seeing more digital images being used during standard care and increasingly recognising how beneficial they are for healthcare providers and patients.

"The huge advantages of remote assessment could be especially important in low- and middle-income countries where travel from rural settings to hospital for follow-up after surgery can be extremely challenging."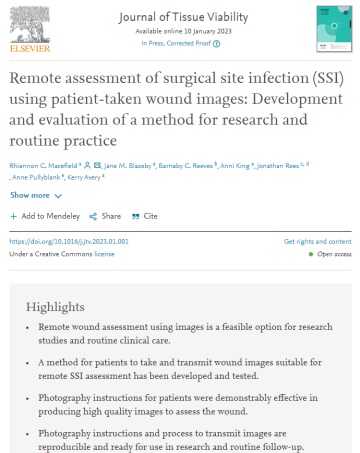 Remote assessment of surgical site infection (SSI) using patient-taken wound images: Development and evaluation of a method for research and routine practice